Sep
20
2023
Changer: A Hand Telling
September 20, 2023
3:30 PM - 5:00 PM
Location
Richard J. Daley Library Room 1-470
Address
801 S. Morgan St., Chicago, IL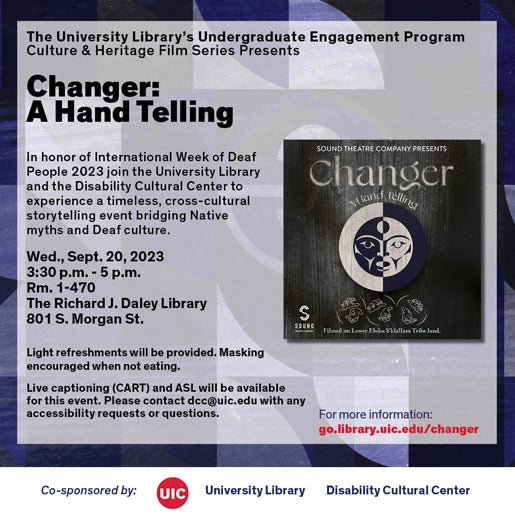 In honor of International Week of Deaf People 2023, please join the University Library and the Disability Cultural Center to experience a timeless, cross-cultural storytelling event bridging Native myths and Deaf culture.
The event will be held in the Richard J. Daley Library, Room 1-470 from 3:30-5 p.m.
Light refreshments will be provided. Masking encouraged when not eating.
Live captioning (CART) and ASL will be available. Please contact dcc@uic.edu with any accessibility requests or questions.
For more information, visit go.library.uic.edu/changer
Co-sponsored by: UIC University Library and Disability Cultural Center
Contact
Jennifer M. Jackson
Date updated
Sep 18, 2023