Feb
9
2022
Exhibit – Celebrating Asian American Advocacy and Community at UIC
February 9 - August 15, 2022
12:00 AM - 12:00 AM
Location
Richard J. Daley Library, Third Floor, outside of Special Collections and University Archives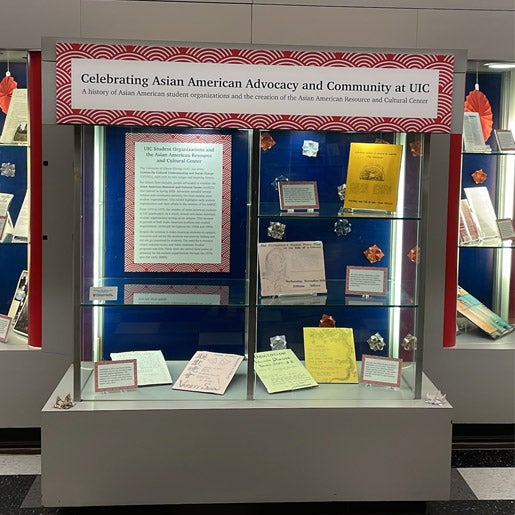 An exhibit in Special Collections and University Archives, Celebrating Asian American Advocacy and Community at UIC, highlights the creation of the UIC Asian American Resource and Cultural Center as it celebrates its 17th anniversary and its recent move to a new location, 723 W. Maxwell St.
The exhibit shows the role UIC student organizations played in advocating for the Asian American Resource and Cultural Center's creation by pulling from various student organizations and the center's records within the university archives, said Leanna Barcelona, assistant professor and university archivist. These records illustrate the importance of students and student organizations in advocacy, both on and off campus, and are a vital part of UIC's institutional history, she said.
The exhibit is open during the spring semester and in summer session 2022 and will be presented in two sections within the library. The third-floor exhibit space draws from records in the University Archives. The forthcoming second-floor exhibit will include student perspectives on how involvement with the center and student organizations has impacted their lives.
"Now that AARCC is reaching its 17th year, it's important to document its prominent role in the UIC community as one of the cultural centers on campus. We are excited that the UIC library is setting up the exhibition so that students, staff, faculty and other researchers will be aware of and learn about its significant legacy providing services to Asian American students, staff, and faculty as well as others interested in the community," said Mark Martell, director of the Asian American Resource and Cultural Center.
For more information, contact Special Collections and University Archives at (312) 996-2742.
Learn more about COVID-19 guidelines for visiting