Adrian Scheltes collection now available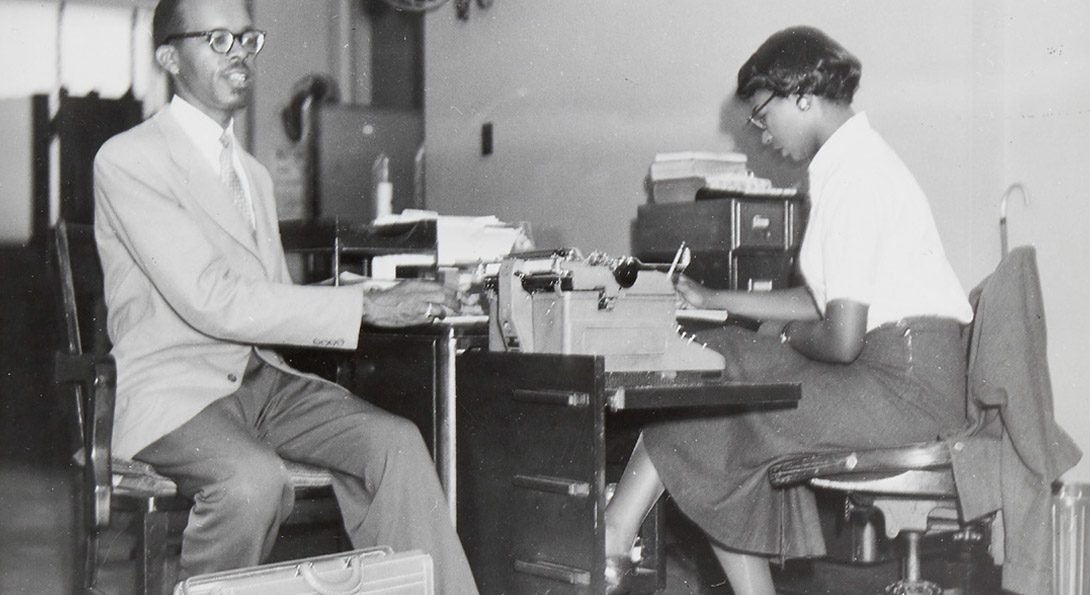 Records document Scheltes's work assisting blind people with learning professional skills to enter the workforce
By Megan Keller Young
The UIC University Library is excited to announce the acquisition of the Adrian Scheltes collection. Scheltes was the supervisor of counsel and guidance for the blind at the Illinois Division of Vocational Rehabilitation where he assisted blind people with learning professional skills to enter the workforce. He lost his sight at the age of 21, which motivated him to seek a career in public service assisting other visually impaired people.
The Adrian Scheltes collection contains 81 black and white gelatin silver photographs, two newspaper clippings and four letters from the late 1940s-1950s. The photographs are of blind people working in a variety of jobs, including a florist, a disc jockey, switchboard operators and assembly line workers. A few photographs show Scheltes at work as well. The letters are from employers of Scheltes' clients with updates about how they are faring in their work.
The purpose of the Illinois Division of Vocational Rehabilitation (DVR) is to find jobs for people with disabilities and provide support to help them grow and advance in their workplace. DVR's 1957 annual report states, "Our job is to ameliorate the disability by medical services and to determine then what job a client and do, or to develop through vocational training an ability to do some job, and then to help him locate the job that matches his ability; when he is thus placed, he is no more handicapped than the rest of us." A variety of services were offered, including medical services such as surgery, glasses and low vision optical aids and diagnostic testing. Scheltes helped DVR's clients to enroll in various colleges, universities and vocational schools to train for careers including teaching, journalism, law, social work, business management and secretarial work.
The collection contains a 1955 letter from the commanding offer at the US Naval Ordnance Plant in Forest Park, Ill., describing his satisfaction with hiring blind people over a period of seven years:
"…it is with sincere pleasure that I am in a position to advise that the undertaking has proved completely successful....our entire experience in the employment and placement of blinded personnel has been thoroughly enjoyable as well as profitable and it is difficult, with what is known now, to comprehend our initial apprehensiveness and fear of creating safety hazards in a strictly manufacturing operation by employment of the blinded."
The DVR assisted all their clients regardless of their race. A 1955 letter from the Association for the Advancement of Negro Blind to Scheltes praises his work to eliminate discriminatory practices against Black blind people:
"It is with a deep sense of gratitude that I, on behalf of the members of the association, extend to you our appreciation for your efforts in our behalf. You have done more in your division than any other single individual to eradicate discriminatory practices against Negro blind in the professional, industrial and social orbit."
Adrian Chester Scheltes was born September 1, 1916, in Chicago. He graduated from Northwestern University with a degree in education in 1943, and married his wife Lydia in 1947. They traveled often to Hong Kong, France and Russia among other places. Scheltes died August 15, 2010.
The Adrian Scheltes collection is available at the UIC Library of the Health Sciences-Chicago Special Collections and University Archives reading room (see finding aid at go.library.uic.edu/scheltes). Appointments are currently limited to current UIC students, faculty and staff. Remote reference is available. Please call (312) 996-8977 or email lib-spec@uic.libanswers.com for more information or to make an appointment.
Modified on October 01, 2021