Announcing the UIC Library English 161 Research Award winners!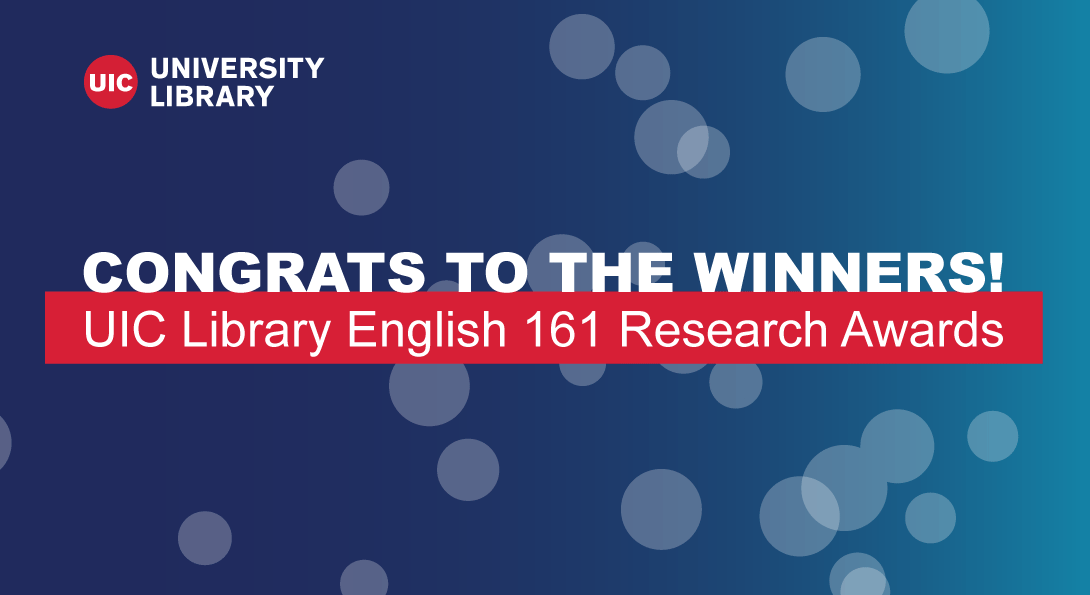 The UIC Library English 161 Research Awards, initiated in the fall of 2020, recognize excellence in student research that demonstrates best practices in finding, evaluating and synthesizing sources to develop creative and impactful work. Students also reflect on their research and writing process in the form of a short essay, which is judged in conjunction with the research paper. All entries from spring 2021 were excellent, making judging all the more difficult. We are pleased to announce the following awards:
First Place: Carl Valendez, nominated by Todd Sherfinski
Dengue Transmission and Its Human Related Causes
In his nomination, English 161 instructor Todd Sherfinski wrote that Carl's paper is a "great example of responding to a standard view in a surprising way. By focusing on how humans and not just mosquitos have contributed to disease transmission, the paper has an implicit 'so what' -- what is our responsibility to insects? The paper is also structured in a way that while thoroughly researched still retains a human element."
2nd Place – Cristal Vargas, nominated by Alex Luft
Pediatric Leukemia Survivorship: Beyond Treatment Completion
Alex Luft was impressed by Cristal's treatment of her subject as a childhood survivor of Leukemia. "While her paper acknowledges her particular perspective, she calls on a strong body of research articles to outline the multi-faceted nature of survivorship. She adopts a fairly sophisticated position that treating leukemia is about more than medical procedures; she advocates for supporting survivors facing physical, social, cognitive and economic challenges over their lifetimes."
3rd Place - Maria Castillo-Garcia, nominated by Jules Wood
Feminist Depictions in Little Women
Jules Wood wrote, "Maria's writing is energetic (I love her verbs!), and her passion for her subject comes through so clearly. Within the context of my class 'Writing about Adaptation,' Maria took on a particularly hard task: She wanted to compare not only the book Little Women to its most recent 2019 adaptation, but also look at the evolution of all of its adaptations over the years. By the time she wrote her final essay, she distilled her thesis down so that it addresses the heart of her argument: Amy March is just as much of a feminist as Jo March, and it's vital to acknowledge that for contemporary audiences."
The librarian judges enjoyed reading each and every paper, and all students who submitted applications should be proud of their work. Other nominated students included: Lucas Alexander, Marwa Daoud, Alex De Guzman, Michelle Dharma, Jordan Dunn, Coleman Earnest, Mariam Hassan, Kasia Kuziar, Maddy Lopez, Bindu Mukundappa, Shivali Padmani, Sean Par, Maitri Shah, Justin Stanly, Zach Tolentino, Thomas Vaccaro. Congratulations to them all!
Modified on September 07, 2021