Sep
22
2022
Recovery and Community: Multiethnic Digital Humanities in 2022
September 22 - 24, 2022
9:00 AM - 12:00 AM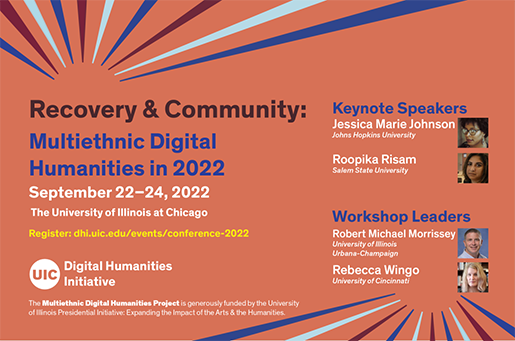 This conference explores the ways that digital platforms and methods both advance the scholarship on race and ethnicity and connect underrepresented communities, identities, histories, languages and cultures with scholars, students and interested publics.
Scholars from Asian, Black, Arab-American, Indigenous, Latinx studies and other fields have revealed the potential of digital tools and platforms for multiethnic scholarship. These have also explored how community-based digital scholarship facilitates exciting collaborations featuring new stories and new storytellers. Inspired by their work, the conference will highlight how digital humanities scholars have enhanced the analysis of diverse communities; we will also highlight critical engagement with digital methods.
The in-person portion of the conference will be organized into interactive workshops to advance digital skills and panels that explore multiethnic digital humanities in scholarship, in the classroom, and in the community. The online portion will consist of recorded panels and videos featuring the future of multiethnic digital humanities.
Keynote Speakers
Jessica Marie Johnson
Johns Hopkins University
Roopika Risam
Salem State University
Workshop Leaders
Robert Michael Morrissey
University of Illinois at Urbana-Champaign
Rebecca Wingo
University of Cincinnati
This event is made possible by the University of Illinois Presidential Initiative: Expanding the Impact of the Arts & the Humanities and sponsored by the Digital Humanities Initiative, a partnership between the the UIC Institute for the Humanities and the University Library.