Beverly Allen Day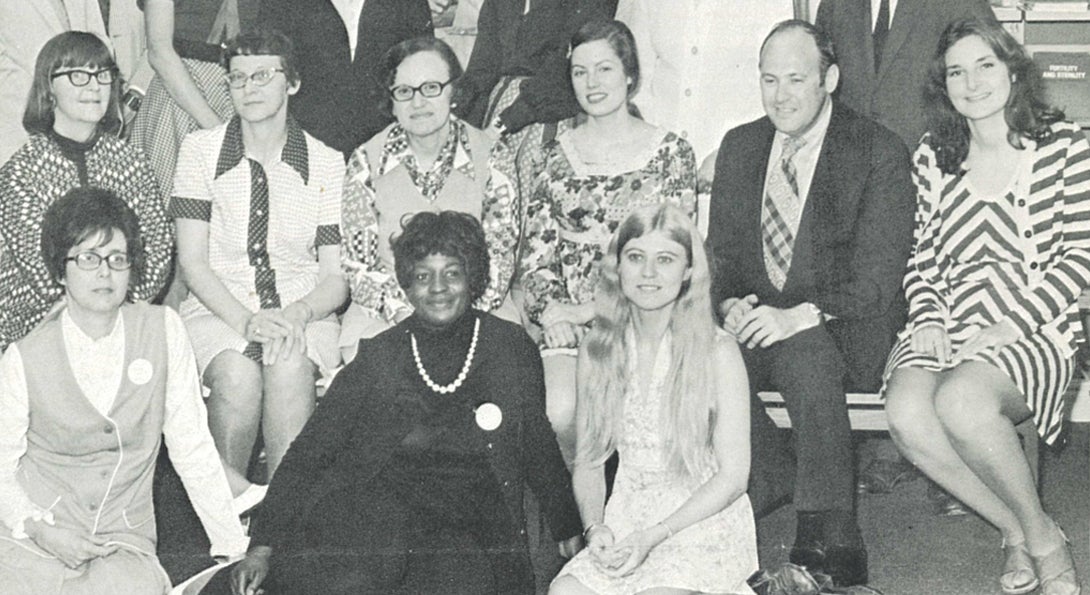 Celebrating and remembering the Library of the Health Sciences–Peoria's founding librarian
Please join us on Sept. 7 for "Beverly Allen Day," an open house celebration and remembrance event and exhibition in honor of Beverly Allen, the trailblazing African American librarian who founded the Library of the Health Sciences-Peoria (LHS-Peoria). The day commemorates the 50th anniversary of the arrival of Allen in 1971 to the University of Illinois Peoria School of Medicine, now the UIC College of Medicine at Peoria (UICOMP). Allen passed away from COVID-19 in late 2020.
For Beverly Allen Day, an exhibition including special collections materials and a timeline depicting Beverly Allen's role in UICOMP's history will be on display inside the Library of the Health Sciences-Peoria and UICOMP. The exhibition will remain on display until Sept. 17. "Grab-and-go" refreshments will be available for UIC community visitors on a first come, first served basis throughout the day on Sept. 7.
In the early 1970s, African American women had for the first time been appointed to a few key leadership roles in the still today white-dominated field of library and information science in the U.S. During this time, Beverly Allen not only single-handedly created and developed the Peoria School of Medicine's library collections and services, policies, physical spaces and staffing but did so while also working in another predominantly white and male field—medical education. Over the course of only a few years from 1971-1976, Allen developed and set in motion her expansive vision of the role of the library as central to the medical school, shaping LHS-Peoria as we know it today. Just 17 days after starting her position as medical librarian, Allen gave the first Peoria School of Medicine Library Orientation to 18 third and fourth year-medical students (17 white men and 1 woman). By 1976, Allen had grown the medical collections from zero to over 25,000 volumes.
In the first annual report of the Library of the Health Sciences-Peoria, Allen articulated her view that, "Service is the key word in the operation of this library. A store house or clearinghouse of information is not its goal. Rather, Peoria's purpose is to be an integral part of the process of teaching and learning." Today, Allen's legacy is carried on by LHS-Peoria librarians who play an integral role within UICOMP by partnering with faculty and leadership on curriculum development and delivering integrated library instruction. In addition, LHS-Peoria librarians serve the greater Peoria community through vital consumer health education outreach initiatives and programming.
About Beverly Allen
Beverly Allen was born Nov. 20, 1939 in Kansas City, MO. She earned a bachelor of arts in psychology from the University of Missouri and a master of science in library science from Syracuse University. Allen opened the library doors at the Peoria School of Medicine's early home on the Bradley University campus in 1972. She developed the plans to relocate the library to its current home at the UIC College of Medicine Peoria in 1976. However, a few months prior to the final move, Allen left UICOMP to build on her experience and expertise developing LHS-Peoria to establish the medical library, including a multi-media center, at Morehouse College. She was appointed to a term on the National Library of Medicine's Board of Regents in 1992. In 2004, she was nominated by then President George W. Bush, confirmed by the U.S. Senate and subsequently appointed to a term on the National Museum and Library Services Board of the Institute of Museum and Library Services (IMLS). She retired from Morehouse College in 2005.
More information
Beverly Allen Day - Carmen Howard, LHS-Peoria Instructor and Regional Health Sciences Librarian: choward4@uic.edu
Library of the Health Sciences-Peoria
Modified on September 07, 2021