Congratulations to the Spring 2023 UIC Library English 161 Student Research Award Winners!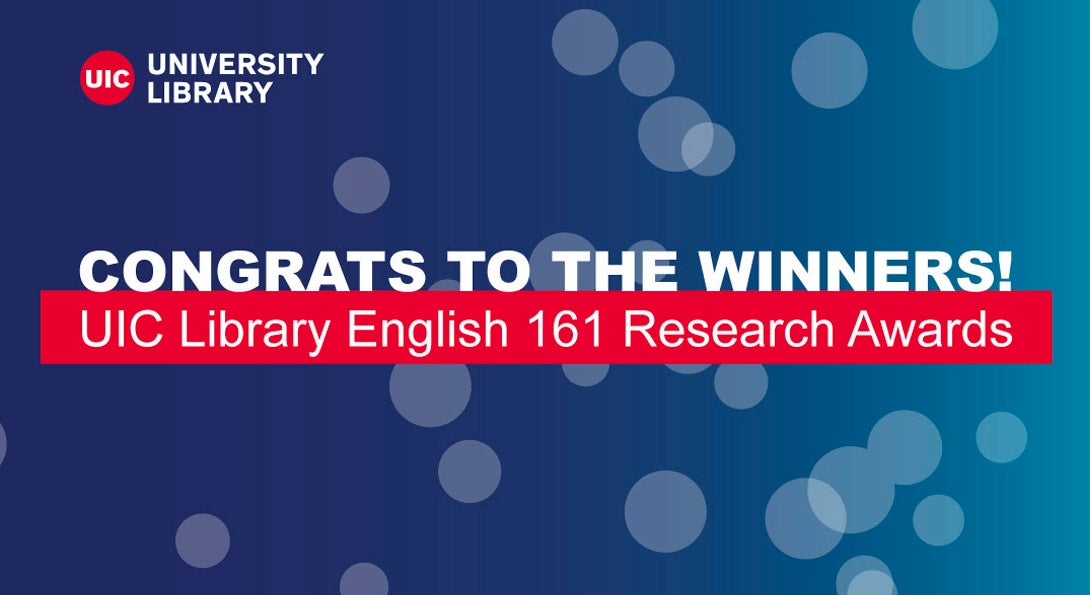 The UIC Library English 161 Research Awards, initiated in the fall of 2020, recognize excellence in student research that demonstrates best practices in finding, evaluating and synthesizing sources to develop creative and impactful work. Students also reflect on their research and writing process in the form of a short essay, which is judged in conjunction with the research paper.
Winners from Spring 2023 are Kelly Lo, Fatima Bobat, and Claire Dombrowski. Congratulations!
First place: Kelly Lo, nominated by Kabel Mishka Ligot
"Experiential Marketing K-pop Idol Images in Nation Branding Campaigns: The Success Factor Behind South Korean International Tourism"
Kelly's instructor wrote in her nomination, "Kelly was extremely hands-on and proactive in putting this assignment together, frequently attending office hours, handing in extra drafts--even consulting with graduate students in the English department about publication, research opportunities, and majoring in English." In her research process essay, Kelly wrote, "Writing a research paper for me was like constructing an art piece; doing the other three [English 161] projects was like brainstorming; paying attention to the lessons, completing the homework, and reflecting on the instructor's feedback was like guidelines and required observations." Kelly is an incoming second-year student in LAS who is considering an English major with a concentration in film, media, performance, and pop-culture. She is also newly admitted to the Honors College.
Second Place: Fatima Bobat, nominated by Snezana Zabic
"The Kingdom: A 'War on Terror' Representation"
Of Fatima's paper, Snezana Zabric wrote, "In her paper, Fatima showcases her analysis of The Kingdom (Peter Beg, 2008), building her own argument using evidence drawn from the film and in response to scholars and critics, whose findings she synthesizes effectively and clearly." Fatima Bobat is a first-year biological sciences major in the GPPA Medical Scholars Program. She found this research process extremely impactful, noting how important it was for her to showcase how popular media can perpetuate Islamophobia. She noted, "My English 161 research experience has taught me invaluable skills to aid in my growth as an advocate for my identity and the Muslim-American community as a whole."
Third place: Claire Dombrowski, nominated by Karen Leick
"The Ethics of Germline DNA Editing"
Claire is a sophomore studying biological sciences with a concentration in evolution and ecology, and possibly a minor in professional writing. Having taken the honors course, Ethics, Medicine, and Choices about Children, taught by Professor Timothy Murphy, she decided to research germline DNA editing for her English 161 paper because she thought it would be a "really interesting topic to dive deeper into and see what professionals are saying about this controversial technology." Karen Leick wrote that her paper was "a thoroughly researched, well-organized, accessible presentation of a complex topic. Claire found an interesting range of sources to show both sides of the issue and concluded with a look at how the conversation has changed over time."
The UIC Library would like to congratulate Kelly, Fatima, and Claire, along with all the other students nominated for the spring semester.