Congratulations to the winners of the Fall 2022 UIC Library English 161 Student Research Awards!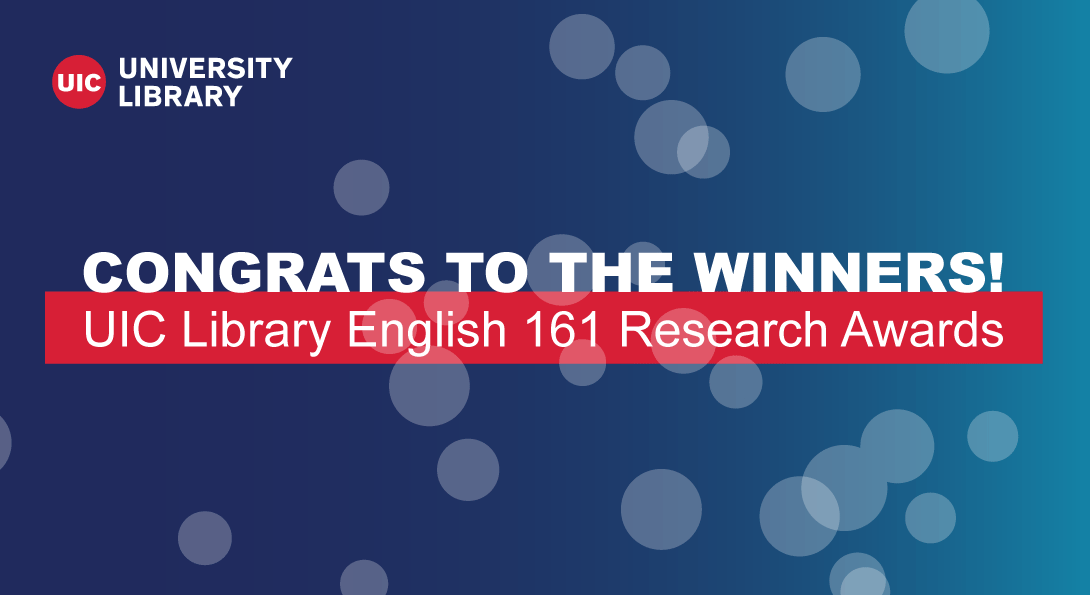 Most students encounter their first UIC research paper in the writing course, English 161: Academic Writing II: Writing for Inquiry and Research. The UIC Library has had a close relationship with this program for many years, with instruction librarians partnering with English 161 instructors to teach research skills in their classes. To recognize excellence in student research, librarians developed the UIC Library English 161 Student Research Awards.
The Research Awards highlight student research that demonstrates best practices in finding, evaluating and synthesizing information to develop creative and impactful papers. Each semester, instructors from English 161 classes nominate outstanding student papers. To be eligible for the award, students must also write a short essay, reflecting on their research and writing process. Applications are judged by a panel of UIC librarians.
This year's submissions were thoughtful, well-written, and expertly researched. After much deliberation, the judges are pleased to announce the following awards:
First place:
Noor Kabbani, First-year student, English major, GPPA Dental program
Ella Enchanted: Why "Fun" Media Matters, nominated by Jules Wood
Second place (tie):
Claudia Jimenez, First-year student, Computer Science major
Forgotten Heroes: The Low Rate of Access to Care among Female Service Members versus Male Service Members, nominated by Kim O'Neil
Sam Madigan, First-year student, Art & History double major
Class Inequality in Theater: Exclusivity and Disruption, nominated by Jennifer Lewis
Third place:
Alice Kattan, Second-year student, Biochemistry major
The Journey to Affordable Drug Prices, nominated by Jennifer Lewis
Congratulations! And a special congratulations to all nominated students.