Pioneering female politicians' papers available for review in UIC Library special collections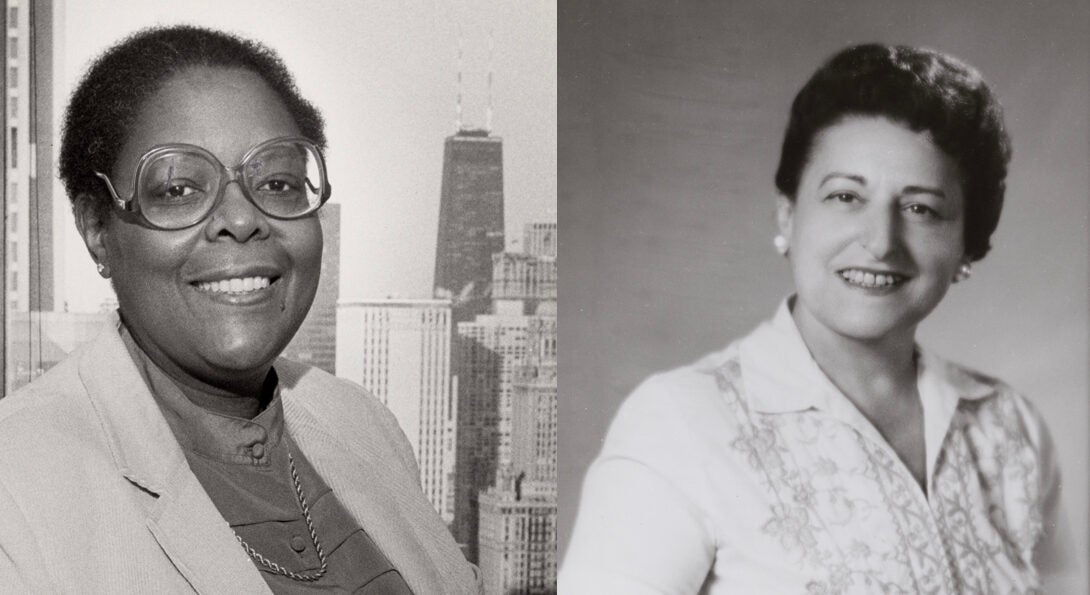 Published on UIC Today
March 15, 2023
By Carlos Sadovi
The University of Illinois Chicago Library is making available the archives of two pioneering female politicians from Illinois to students, researchers and the public in honor of Women's History Month this March.
The collections span the careers of Cardiss Collins, who represented Illinois in the U.S. House of Representatives from 1973 to 1997, and Esther Saperstein, who served in the Illinois General Assembly from 1957 to 1975 and as a Chicago alderperson from 1975 to 1979.
"They were very strong voices for women's interests in terms of the policies they advocated and their own personal stories, which are represented in the collections that show them navigating the constraints and opportunities that they faced in their political careers," said Dan Harper, UIC Library special collections assistant archivist.
Collins was first elected to Congress in a June 1973 special election to fill the seat left vacant by her husband George, after he was killed in the United Airlines Flight 553 plane crash at Midway International Airport Dec. 8, 1972, one month after winning reelection.
For more than two decades, Collins represented the 7th Congressional District, which included the West Side of Chicago. With her election, she became one of a handful of Black women in Congress and was the first Black woman to represent Illinois.
On a national level, Collins was the first Black woman in U.S. States to assume a leadership position in Congress. In 1975 she became the Democratic whip at-large in the Democratic party caucus leadership structure and in 1979 was elected president of the Congressional Black Caucus, Harper said.
During her tenure, she was an advocate for women's health, racial equity and affirmative action issues. She was also influential in expanding Medicare and Medicaid benefits to cover women's health issues including requiring Medicare to cover breast cancer and health screenings.
She also focused on advertising agencies to "stop discriminating against minority and women-owned businesses" and advocated for federal programs to help marginalized businesses, Harper said. She was a strong proponent of universal health insurance and was one of the sponsors of the Clinton Healthcare Bill in 1993.
She served under six presidents, beginning with President Richard Nixon in 1973 and ending with Bill Clinton in 1997. As the Congressional Black Caucus leader, she was a critic of Jimmy Carter, whom she accused of taking Black voters for granted, and was a critic of Ronald Reagan.
During her congressional career, she watched as Republicans and Democrats began to lose their ability to work together and grow more polarized, especially when Newt Gingrich became speaker of the Republican-controlled House of Representatives in 1995. She chose not to run for reelection two years later and was succeeded by Danny Davis, who has held the seat since. Collins died in 2013 at the age of 81.
"The archives consist primarily of her congressional records, which means that it's heavily focused on the bills she sponsored and on some of the workings of her congressional staff and some of her relationships with fellow congresspersons," Harper said.
Saperstein was born in 1901, near what is now UIC. She began her career in the 1930s by being actively involved in the Chicago region chapter of the Parent Teacher Association and eventually became its president, Harper said.
In 1955 she ran to become alderwoman but lost the race to the candidate who was being backed by the Democratic machine led by Richard J. Daley, who that year was elected to his first term as mayor.
Even though she lost the race for the city council, Daley took an interest in Saperstein and convinced her to run for a seat in the Illinois House of Representatives. With Daley's backing, she won the election and served from 1957 until 1967. She was then elected to become the first female Democrat to serve in the Illinois State Senate and held the seat until 1975, Harper said.
In 1975 she was elected to the Chicago City Council, where she served until 1979. She died in 1988.
During her career, she was a strong proponent of women's issues and served on several commissions that focused on the status of women. These commissions centered on the wages women earned in comparison to their male counterparts, challenges faced by working mothers and discrimination and civil rights issues faced by women.
Saperstein was a strong proponent of the Equal Rights Amendment that was approved by Congress in 1972 but required ratification by three-fourths of the state legislatures. She sponsored it for two sessions in a row to try and get it ratified but was unsuccessful, Harper said. He noted that in her collection what is clear is how she struggled in the male-dominated state legislature.
"In an oral history interview, Esther Saperstein said she had to face a lot of condescension from her male colleagues in the legislative bodies and had to work with that, and through that, to get a lot of her policies through," Harper said. "She thought being a woman was much more of a challenge for her than being Jewish in her job."
Similarly, Collins' papers also show how she had to navigate challenges on the national political level as well. She had a reputation for being an extremely hard worker who barely took more than two days off in a row and did not take a single vacation during her first six years in office.
The archives also reflect the tenure of both women during the height and the waning days of the strong Illinois Democratic Party machine run by Daley until he died in 1976.
"I want people to look at these collections as introductions to a way to look at Chicago history," Harper said. "Together Cardiss Collins and Esther Saperstein are interesting because they spanned what is known as second-wave feminism, the idea that after women have the right to vote they are going to advocate for equality in additional ways."
Anyone interested in reviewing the collections can reach out to UIC Library Special Collections and University Archives. Links to the finding aids for the collections can be found online at Cardiss Collins papers and Esther Saperstein papers.