UIC alumnus, 'Family Ties' actor Michael Gross donates papers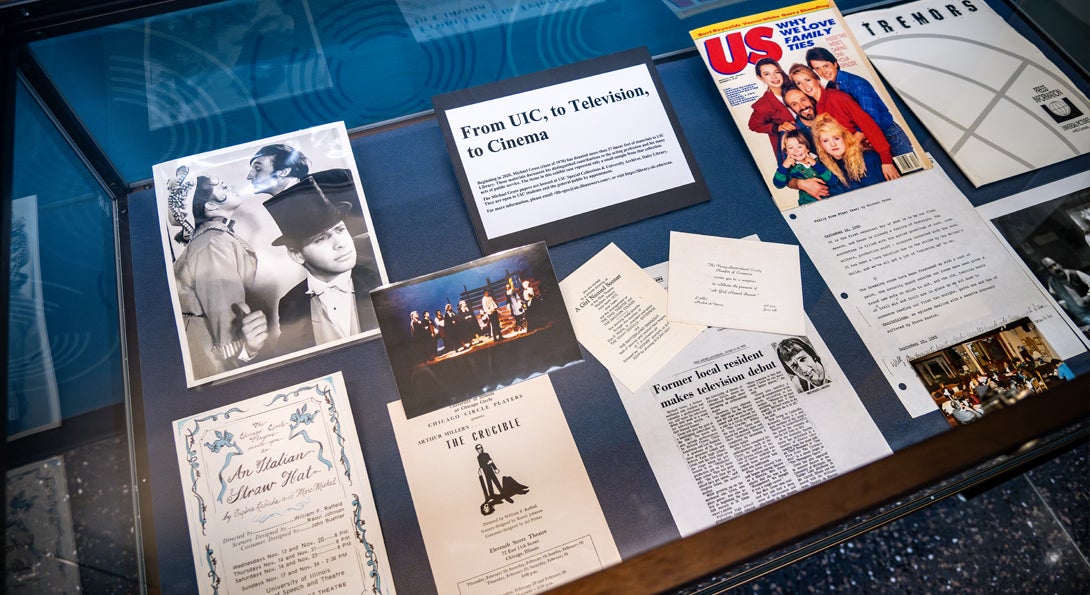 By Carlos Sadovi
Published on UIC Today, Oct. 31, 2023
Actor and University of Illinois Chicago alumnus Michael Gross watched as UIC School of Theatre students rehearsed the play "Marat/Sade," set in an asylum during the French Revolution, and said watching the students rehearse on stage gives him a creative spark.
Gross, who is best known for playing the father of Michael J. Fox's character on the hit '80s show "Family Ties" and for playing the survivalist character on the "Tremors" film franchise, sat in on the Advanced Acting ensemble class alongside UIC Theatre professor and head Yasen Peyankov and Rebecca Rugg, dean of the College of Architecture, Design, and the Arts.
"I get inspiration from them," Gross said of the students. "These are people who are still imbued with the passion I had. They have a passion and a dream that will take them far."
The alumnus was at UIC recently to announce the donation of more than 50 boxes of papers, scripts, photographs and other memorabilia from his long career to the University Library Special Collections, where they are being made available to students and the public. He also continues to sponsor the Michael Gross Acting Award for drama students and took the time to sit in on several classes.
After he silently watched the 17 students run through a rehearsal of the play, Gross applauded the students for their work on the rigorous "play within a play," whose characters are in an asylum.
"It's strange, amidst all of [the play's] craziness, it demands the utmost clarity coming through the insanity because the ideas are very specific, and they just keep coming at you," Gross said. "It's just great watching actors work."
Gross told the students that his favorite part of any production is during rehearsals, when the creative process is wide open and an actor can learn the role, sometimes by accident. He said acting is a form of creation that gets recreated in each subsequent performance.
"This is the place to make all your mistakes, to go down the wrong alleys and to try things that don't work," Gross told the students. "That's what this time is for, the freedom to screw up and to try things."
Senior theatre major Jazz Jabulani, who was portraying the French revolutionary Jean-Paul Marat, asked about acting theories during Gross' time as a student. Jabulani said the play they were working on was part of the "total theater," which relies on imagination and makes use of drama, music and dance.
Gross, who graduated from UIC in 1970, said the focus when he was a student was similarly on taking imaginative approaches in modern plays as well as relying on Shakespeare, Greek tragedies and Italian Commedia dell'arte.
"We all learn from the past to a degree, so it's a good idea to cover it and make those journeys to see what other people did before you," Gross said.
Colin Callahan, a senior, said he took what Gross had to say to heart when he told students to take chances but also to be ready when the opportunity arose.
"He spoke to what I'm feeling now, just getting your feet wet and getting in there and experimenting what you can," Callahan said. "I've been getting a lot of auditions, so I've been spending a lot of time with them and just figuring out what works and what doesn't."
Tyara Whitted, a senior, said what stuck with her was hearing about Gross' persistence when he told them about his life as a young struggling actor. He told students that even when the rejections come, and they will come, students must keep pursuing their dreams. Whitted is this year's recipient of the Michael Gross Acting Award.
"It's always inspiring to talk to artists who made a career of what I'm studying," Whitted said. "What stuck with me is his overall persistence in the arts…to find art that's inspiring to you."
Sol Fuller, a senior, asked Gross what the most helpful thing was that he had learned early on, and Gross answered that it was to be prepared. He did this, he said, by acting in smaller regional theaters, where he could learn the craft of acting. Eventually, the smaller venues prepared him for Broadway, television and movies. Fuller was last year's recipient of the Michael Gross Acting Award.
"I thought if I got to smaller theaters, I could get bigger roles and make my mistakes and screw up but get tested in a way I won't if I play smaller roles in bigger venues," Gross said.
During his discussion, Gross told students that when he was a UIC student, the theatre building did not exist on campus, and performances were in lecture rooms and a small off-campus theater, which required buses for students to get to rehearsals.
Growing up on the Northwest Side of Chicago, Gross attended Kelvyn Park High School before attending UIC, where he started in the pre-medical track before eventually earning a degree in theatre and then going on to earn a Master of Fine Arts at Yale University.
He implored students to stick with their dreams to pursue the arts, noting that the world needs more artists and deep thinkers.
Student Nazaret Castillo said what she wanted to take away from the discussion was Gross' emphasis on how students need to develop a thick skin.
"I learned, honestly, to just keep going. If you believe in what you are doing, it just fuels you," Castillo said.
Some of the highlights of Gross papers include his "Family Ties" diary, which includes notes he kept during the filming of the final season of the show, portions of scripts with notes, comments and last-minute revisions, and behind-the-scenes correspondence and preparation for some of his performances.
Pam Hackbart-Dean, head of the Special Collections and University Archives, said the papers will serve to give students and the public glimpses of what it's like to be an actor and about his time at UIC.
"The collection itself is an example, one of many, of Mr. Gross's dedication and contribution to the university," Hackbart-Dean said.
Gross said by speaking with students, sharing his papers and continuing to fund his scholarship, he wanted to give students hope.
"I'd like some of them to profit from my mistakes and you'll find the papers I have given will contain some of the bad reviews as well as the good," Gross said.
For more information about accessing the Michael Gross Papers, contact Special Collections and University Archives at (312) 996-2742. A link to the finding aid is available online.